Biography
Odalys Sanchez Elkins understands the problems facing many families today and is dedicated to the pursuit of justice for those who need a strong voice in court.
She was born in Havana, Cuba.  Her parents were forced to send her to the United States when she was seven years old through an exodus movement known as "Operation Peter Pan", which protected children in the early 1960's from the oppressive Cuban government.
When she arrived in the United States with her 4 year old brother, they were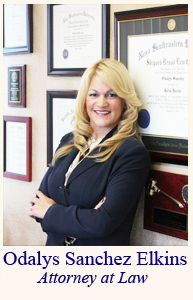 both processed at the Freedom Tower in Miami, then placed in temporary foster care with a local family.  She attended St. Peter & Paul Catholic School, sponsored by the Archdiocese of Miami.                                                                                                                  
Her mother fled Cuba two years later, recovered the children, and moved to Chicago in search of better opportunities.  They encountered many challenges and  learned to overcome and rise above them.                                                                                                
Odalys moved back to Miami in 1976 and graduated from American Sr. High School.  She was married shortly after that and had three children only to find herself raising her children as a single mother.                                                                                                           
In order to support her children, she worked as a full time Paralegal and took college courses in the evenings at Miami Dade College and Florida Atlantic University, where she received a Bachelor's Degree in Political Science.  She later attended a four year evening law program at Nova Southeastern University and earned her Juris Doctor degree.
Odalys Sanchez Elkins is a member of the Florida Bar and of the U.S. District Court of the Third District of Florida.  She is a trial attorney and has experience handling all aspects of family law cases.  She also has experience in handling civil litigation and Chapter 7 Bankruptcy cases.  Ms. Sanchez Elkins also provides legal services through the pro-bono program in Miami Dade County, as a Guardian Ad Litem, which gives children a voice in court.
Attorney Sanchez Elkins is a strong advocate and dedicated to pursuing justice for you and your family.